Conversation Media Marketing Campaigns With Holler
Updated: Jun 22, 2021
Have you ever wondered about the arrangement of products in a supermarket? If you are a marketer then you might know the strategies that go behind the placement of thousands of products in the supermarket. These products are not just placed categorically but are mixed and matched. A reason why you will find pasta as close to the pasta sauce as possible. Or the products that need to be sold more are often placed at eye level so that consumers can reach them with ease.
Just like a supermarket, how a product is placed or reaches the customer online is significant for any brand marketer planning a great marketing strategy.
Quoting Franz Schrepf, a marketing consultant from his TEDTalk "It is not the best product that sells the most, but the best-promoted product that sells the most". Of course, the product must hold the quality otherwise it won't retain the customer but how any product makes impressions on the users is significant.
In the ever-changing world, Marketers are always looking for new ways to connect with users. One such marketing strategy that is rapidly gaining pace is Conversation Media Marketing. Marketing with branded visuals that become a part of everyday conversations of the everyday person.
If you are a marketer in the quest of raising brand awareness than platforms like Bobble AI or Holler can be helpful. Both of these Conversation Media platforms can be used by brands. For now, Bobble AI is more suited to reach the Indian and south-east Asian audience whereas Holler is more suited for the brands trying to reach western geographies.
Here are some campaigns by Holler.io that will give marketers a better idea of How brands have used Holler to become a part of user conversation.
Best Conversation Media Marketing Campaign By Holler
Chipotle Delivery Campaign
Chipotle partnered with Holler to create an entertaining and engaging campaign to highlight Chipotle's delivery offering. Utilizing the brand's social media presence the campaign helped bring the funny meme-like presence of Chipotle into messaging and conversations. This fun and witty approach resonated with Chipotle's target audience.






Vita Coco - The Hangover Buddy
Vita Coco, the beverage brand launched a cross-channel campaign on Jan. 1 to show how its coconut water can help alleviate the hangover that follows you after a crazy New year party. In addition to releasing these custom stickers with Holler, they also delivered a free hangover kit to Newyorkers with help of Postmates.
HBOMax - Classic Shows X Venmo Transactions
HBOMax with the help of Holler created a Sticker campaign for Venmo. The campaign utilized the IP of popular shows and movies available on HBOMax in a branded Sticker Pack on Venmo. The campaign tied well-known shows and movies to payment topics that are popular on Venmo like rent, food delivery, and drinks. Like this sofa representing the popular sitcom F.R.I.E.N.D.S. HBOMax with Holler was able to make entertainment classics useful on a payment platform!!
Stella Artois - Holiday Special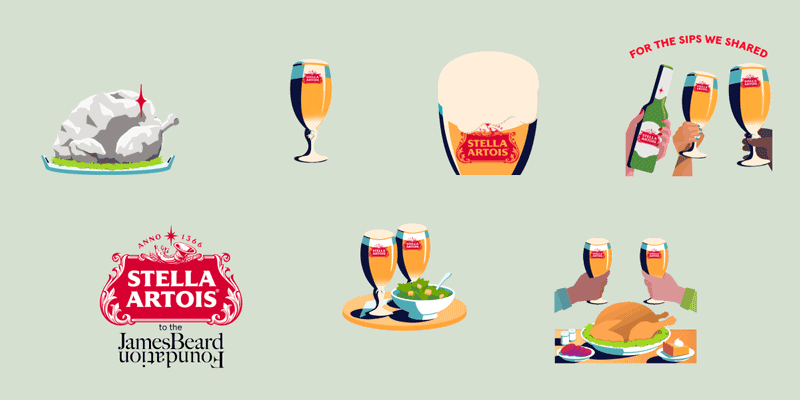 Stella Artois collaborated with Holler in order to make Thanksgiving branded stickers to reach people during small gatherings and in-restaurant celebrations during the holiday season with a Venmo-exclusive campaign. The Seven Animated Stickers were the ideal mix of vintage and chic that represent Stella's brand perfectly. In addition to that, every Stella Sticker shared on Venmo prompted a donation to the James Beard Foundation to support the restaurant business. This way people were able to pay friends and family back for dinner and drinks or split bar tabs during the two week period (or the holiday season) with ease.
Coors Light - Active Chill
The Coors Light brand was able to bring its chilling attitude to messaging with a bunch of fun animated stickers. These stickers could be used by people to encourage their loved ones to take recuperative breaks. Seeing as Coors Light also focuses on college football season, a bunch of football-themed animated stickers were also created for the brand. They bring the light the active chill vibe that Coors Light is known for.
You can see the diversity of targets that can be achieved via Conversation Media Marketing. The future of marketing is personal and it is for everyone.